---
July 2019,   by a family from US after Kamakura one day tour
Dear Eddy,
Thank you again for a great tour and outing with the kids in Kamakura. I think we achieved the objective of whetting their appetite for future trips to Japan and study of the culture (and hopefully language!!) as they get older. Everyone enjoyed the outing a lot. The temples, gardens and beach (and the great lunch!) were all interesting, fun, and appropriate for kids of a wide variety of ages. 
Thanks again!
Dxxx
---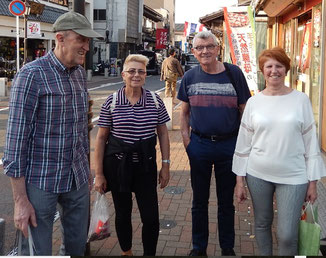 April 2018   by a group from UK after Narita short tour
Dear Eddy,
Thank you for a really good day out we thoroughly enjoyed ourselves and your company and learning much more about Japanese culture and your way of life. It was especially good to be in the midst of the celebrations going on that day and to see all the different foods on sale along the street.
Best wishes and many thanks,
---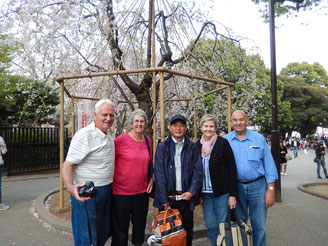 March 2018,  by a group of Australians after cherry blossom viewing in Tokyo
Eddy was an excellent guide.   He showed us the best places to view and photograph the Cherry Blossoms. He gave us much information on the history and local customs, language, foods of Japan, and even gave us a lesson in Origami folding. His English was very good. He communicated very well with us from the time of booking to the date of the tour. We would highly recommend Eddy as a tour guide.
---
Jan.2018, By a couple from US, after Tokyo walking tour
 <Our Day with Eddy >
Eddy is a polite gentleman and a thorough and thoughtful guide. More restrained than dynamic, he planned our one day visit with care, adapting to our interests. He gave us a great mini lesson on Japanese language and characters, an overview of Japanese food and even taught us some origami.
Arigato Eddy!
---
Nov.2017, By a couple from Vietnam, after Tokyo walking tour.
< It was the best experience with such a short time around Tokyo.  Love it >
I have been taking quite a few tours, but I'm sure that Eddy was the hard working tour guide I ever knew. He tried his best to let us know about Tokyo, from history to religion, which is interesting to know.
Thank you for guiding us around Tokyo. It's such a pleasure to meet him.
---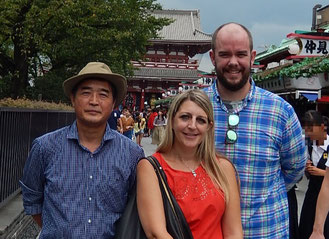 Sep. 2017, By a couple from US,  After Tokyo short tour.
Hi Eddy,
Thank you so much for today! It was so wonderful to be guided by you and to learn about Tokyo and Shintoism, we had a wonderful time.
Thank you so much for your time. If you come back to the United States again, we will be your guides!
Best,
---
June 2017,  By a family from Hong Kong,  After Narita walking tour
Thank you very much for your hospitality in Narita on 22nd June. 
My father and husband are very happy and enjoyed the tour. 
My mobile phone number is xxx-xxx-xxx. Please call me when you come to Hong Kong.
Hope to see you again.  
---
May 2017,  By a couple from Holland , After the Zen meditation experience
<A very special experience>
It was amazing to attend a Zen meditation in a beautiful temple in the center of Tokyo.It was very good to stop for a moment and try to clear our minds, even if we struggled at first.
Our guide was Eddy and it was really easy to find the location according thanks to his notes. After the meditation he kindly offered to show us around for a few hours. He knows a lot about religion and tourist destinations, so all in all it was a really amazing experience.  
Thank you very much!
---
May 2017,  By a lady from France , After the Zen meditation experience
<Peaceful moment>
It is a really great and peaceful experience. Eddy is such a kind person. He explained everything about Zazen from how to practice to its place in Japanese culture. The Zazen in itself is great, not too busy and I was the only foreigner in the room so it was a true immersion in the Japanese culture. When you get out of the temple you feel so serene, amazing feeling!
Thank you very much for this experience!
---
Apr. 2017,  A gentlemen from Algentine,  After the Narita-san Shinshoji walking tour
Hey Eddy. 
Thank you so much for being the excellent guides you were. 
 I had a lot of fun and I've loved the presents you gave me. 
I will take my friends to Narita to show them all the cool stuff you've showed me.
 Also as I told you before. 
If you ever come to Argentina let me know and I'll guide you too!
 Have a wonderful holidays and I hope to see you again!
---
Mar. 2017,  A gentlemen from US, after the Narita walking tour
<Wonderful time>
First we walked down a picturesque winding road full of various shops, but mostly restaurants and markets that specialize in unagi -fresh water eel. 
When my guide took me to the stunning temple and suggested we go in, we sat down and a Buddhist ceremony began that was other worldly with drums of all sizes, smoke, fire, chanting.... Apparently, the monks perform this many times a day as a religious duty, so odds are whenever you go you would be able to witness this. 
Then we walked along a wonderful lake full of giant carp and koi and under 4 hours returned to the airport. I can't express enough gratitude to the wonderful people of Narita who make this happen. 
Visited April 2016
---
Feb. 2017,  A Lady from US, After the Narita walking tour
We did a tea ceremony, went to the temple for a fire ceremony, strolled the beautiful grounds of the temple, and tried the delicious pancakes filled with white or red bean jam.
It was a fabulous way to understand more of the culture. The temple was amazing and well worth the trip. He took pictures of me, and we've exchanged emails and swapped photos since I got back.
Thank you, Eddy for a great day!